About Last Mile Health
Last Mile Health (LMH) saves lives in the world's most remote communities by partnering with governments to bring critical primary care services to the doorsteps of people living in the last mile. Last Mile Health is a registered 501(c)3 non-profit organization with offices in Liberia, Boston and New York. For more information, visit www.lastmilehealth.org.
The Role
Last Mile Health (LMH) partners with the Liberian Ministry of Health to directly recruit, train, equip, manage and pay community health workers and clinic-based nurse supervisors in three counties of Southeastern Liberia. Activities already planned under the National Community Health Assistant (CHA) Program related to routine household visits, nutritional screening for sick children, counseling on exclusive breastfeeding and maternal nutrition could be complemented and extended by having the community health platform play a greater role in essential and supportive nutrition activities. Last Mile Health is committed to working with its local ministry partners to achieve a reduction in stunting and wasting through increased quality of current nutrition related activities and through the expansion of essential nutrition actions for maternal and child health.
The Consultant will provide senior leadership and technical assistance to LMH's Liberia team, guiding the design, implementation and quality assurance of nutrition aspects of current programming, as well as future innovations and scale. The Consultant will support the Programs team in using evidence to develop a more comprehensive nutrition strategy including facility and community-level interventions improved nutritional outcomes for children under five.
When applying to this position, please be sure to note your proposed rate for the consultancy in your letter of interest/cover letter.
What You'll Do
OBJECTIVES
Activity I. Program Strategy & Design
Provide technical oversight, strategic direction and definition of appropriate nutrition activities in line with Government of Liberia nutrition policies and strategies and globally accepted best practices
Contribute to establishing and implementing a system to ensure technical quality of nutrition activities
Contribute to the formulation of innovative approaches for scale-up of targeted nutrition services
Activity II. Capacity Building and Quality Assurance
Help develop and/or revise nutrition training and development of tools, guidelines, standards to improve program quality.
Contribute to the learning agenda by writing nutrition background documents, briefs, and presentations for LMH, including carrying out relevant literature reviews and data analysis.
Support technical capacity building of staff, Community Health Assistants, and Community Health Supervisors through technical updates, training opportunities, identification of potential exchange visit, literature sharing, etc
In Coordination with LMH's National Community Health Systems' (NCHS) team, support LMH's relationships with the Liberian Government and the Ministry of Health, NGO partners, donors, and other organizations. Identify and build relationships with key nutrition partners and working groups for collaboration and advocacy.
Provide technical guidance for LMH's policy advocacy and technical assistance in nutrition to the Ministry of the Health.
Activity III. Assessment, Evaluation, & Learning
In coordination with Research Monitoring, & Evaluation (RM&E) and Program teams the consultant will design, oversee, and coordinate formative research using participatory methodologies to build local capacity and to design high impact community and facility-based interventions based on the social and cultural context in the target areas as determined by the research
Work with the Program staff to design and implement a monitoring and evaluation plan related to nutrition interventions to inform adjustments in project implementation
PROJECT TIMELINE & EFFORT
Commitment - Average of 4 - 5 hours per week (or 20 hours per month), plus for the 6 weeks of travel time
Start Date - ASAP
Duration - One year
Location - Primarily remote from anywhere in the world with travel to Liberia (2 trips, 3 weeks each). First trip to focus on survey design and second trip focused on strategy and monitoring design.
Reports to - Liberia Program Director
Expenses - LMH will directly finance and organize travel, lodging, and transportation for two 3-week trips to Liberia
OVERVIEW OF DELIVERABLES
Note: Deadlines are illustrative and subject to change based actual start date.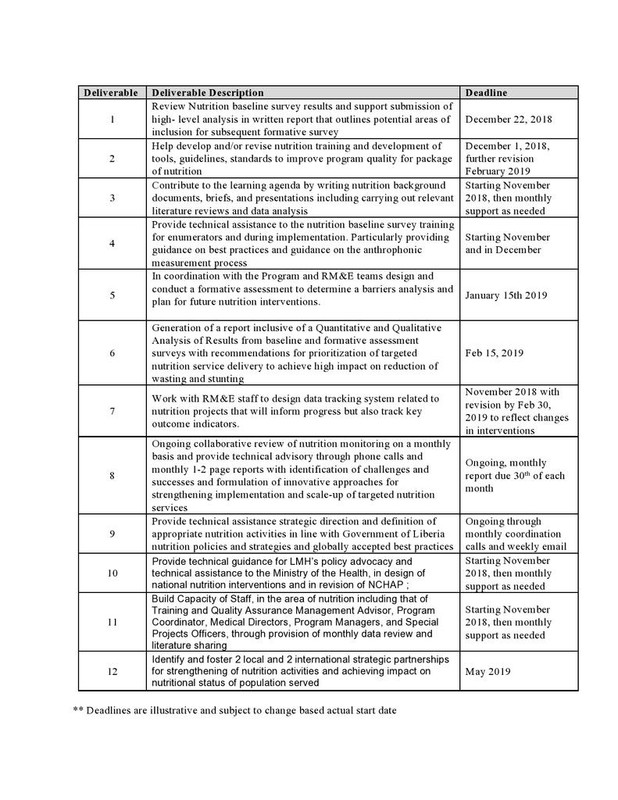 EEO Statement
We are an equal opportunity employer and value diversity at LMH. We do not discriminate on the basis of race, religion, color, national origin, gender, sexual orientation, age, marital status, veteran status, or disability status.